An amazing collection of 1793 Liberty Cap cents
by Tom Deck
March 29, 2002
---
When you ask most coin collectors which particular U.S. coin has the most mystique surrounding it, you're likely to hear "The 1804 Silver Dollar," or perhaps "The 1913 Liberty Nickel." When it comes to the specialized field of early U.S. copper, however, a few coins quickly come to mind: the 1793 Chain Cent (the first coin authorized by the United States for general circulation,) and the 1794 Starred Reverse cent. However, the one that stands out number one in my mind is the 1793 Liberty Cap cent.
Arguments could be made for all three: The Chain Cent was the first cent coined, with a minuscule mintage (36,103), but is not a particularly attractive coin. The 1794 Starred Reverse cent is prohibitively scarce but not impossible to acquire, provided you have the means, and was produced perhaps as the whim of a mint employee. The 1793 Liberty Cap cent (or '93 cap for short,) however, has many ingredients that aid in its desirability as a collectible:

It was produced in the first year of our nation's coinage.
It is obtainable, but very tough to find. Only 11,056 of these were made, making it by far the toughest of the 1793 types to find. There are six different varieties (S-12 through S-16, and one NC, or non-collectable.) All but one variety (S-13) is rare. S-13 is very scarce.
It has a very attractive design. Joseph Wright was the designer; unfortunately, he succumbed to yellow fever in 1793 before he could see the fruits of his labor.
One gentleman in particular, Dr. Roy Sturgeon of Pennsylvania, began a lofty goal nine years ago of trying to acquire a roll of these cents. Back in 1993 he acquired his first 1793 cent at a Flea Market, for $80. "It turned out to be a counterfeit," he told me. After that experience, he and his oldest son, Zane, decided to study the early cents. "[He] and I decided to study Large Cents and we got interested in all the varieties of 1793 cents. It was a comment by Zane, that we should collect a roll of 1793 Liberty Caps, that got us started, since they were the rarest of the 1793 Large Cents."
Even finding one of these cents for sale was a particular challenge for myself; it took me over two years to find one, an S-13. Dr. Sturgeon, with much persistence, was able to find 13 '93 caps in the first year, and after five years he had collected 26 or 27 examples. "I didn't think it could ever happen," he told me. This is especially remarkable, considering that many of the known examples belonged to collectors, who didn't want to give them up. However, at the height of his collection, Dr. Sturgeon amassed 56 examples; one S-12, ten S-14's, two S-16's (an EXTREMELY rare variety!) and the rest S-13's. The elusive S-15, the rarest of all '93 caps, was the only variety (besides the NC variety) that was lacking from the collection. (The last S-15 to be publicly sold was in Superior's J.R. Frankenfield sale of February 17, 2001, which sold for $50,000.)
So, how does one find so many examples of such an elusive coin? "I traded other coins for lots of these ['93 caps]; high grade Chain Cents, and two nice S-7's." (S-7 is the toughest of the Sheldon-numbered 1793 Wreath cents.) Most of the coins were obtained from EAC (Early American Coppers) dealers. Christopher Young, of Chesapeake Bay Rare Coins, provided Dr. Sturgeon the greatest number of '93 caps. Young also helped Dr. Sturgeon in other ways: "I learned about attribution and Colonials from Chris." Other EAC dealers were also helpful in providing '93 caps: Shawn Yancey of The Collector's Coin Company: "He got me past 50." (He's also the dealer from whom I purchased my S-13.) Also helping Dr. Sturgeon locate '93 caps were EAC members Chris Victor-McCawley (or "CVM" as he is known by EAC members,) Doug Bird, and Jim Long. He obtained a few '93 caps by other means; one at a Flea Market (a genuine example,) and another from a gold dealer.
Bowers and Merena auctioned off many of Dr. Sturgeon's '93 caps, plus other important Large Cents, at their Rarities sale in Orlando, Florida, on January 8, 2002. He held back four '93 caps, including the first one he ever bought. Out of the 57 '93 caps in the sale (56 being from Dr. Sturgeon,) 46 of them sold. I was fortunate to be high bidder on one of the S-14's, lot #69, a net Good-6 with a bit of surface roughness but full detail and legends.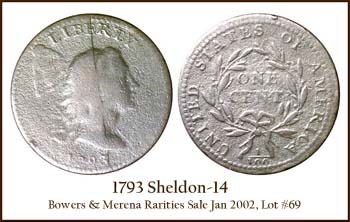 This particular sale will probably go down as the most important sale concerning '93 caps in history. No one before (and I doubt no one ever again) will be able to collect as many '93 caps as Dr. Sturgeon. Rod Burress, the membership chairman of EAC, went to the auction and placed bids on behalf of individuals not able to attend the auction in person. He helped 15 collectors, including myself, acquire a '93 cap. "I believe there may be 150 or fewer '93 caps in existence," remarked Dr. Sturgeon. This may be true; he has probably seen most of them.