Introduction:

Having quality photographs of your coins can serve many purposes. First of all, when selling coins online, whether in a fixed price list or in auctions, good photographs help to sell coins. Having photographs of your coins can also help you positively identify your coins if they're lost or stolen. Also it can be a nice way to view your collection online at anytime, while your coins are safely put up in a safe deposit box.
Selling Coins Online:

Good photographs of your coins can be vital when selling your coins online. Personally, as an eBay bidder, it's frustrating to pull up an auction on a coin that looks interesting, only to look at a picture like this: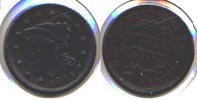 1846 Large Cent VF - actual eBay photo
(Click on the photo to enlarge)

As an alternative, consider the following photo: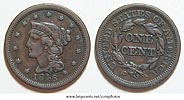 1846 Large Cent VF - from my personal collection
(Click on the photo to enlarge)
Which coin do you think is likely to fetch a better price? Granted, these are two separate coins; I tried to find a similar 1846 cent from an actual eBay auction that matched mine as closely as possible in detail. However, common sense dictates that the better the photos, the more interest your auctions will generate.
My Service:

The service I offer is simple: for a fixed fee per coin, I will photograph coins you send to me and with a 3-day or less turnaround time, send them back to you along with a CD containing the photographs of your coins. All images are stored in standard JPEG format, stored at maximum quality setting. You can view the details of the photography process itself by clicking on Photo Process. For each coin, I photograph the obverse and reverse, and assemble the separate photos into one image, such as the ones shown above. You can see samples of other photos by clicking on Photo Samples.
I offer three tiers of service:
Small: $4.00 per coin. Each image is 420 pixels high. The 1846 cent from my personal collection (see above photo) is an example of a Small photo. These are hosted, at your request, on my webserver for 14 days.
Medium: $4.00 per coin. Each image is 620 pixels high. This provides for a photo which is approximately twice the size as a Small photo.
Large: $4.00 per coin. Each image is up to 1220 pixels high, depending on the diameter of the coin, which creates a HUGE image. This service is available for coins the size of a Half Cent and larger. (A typical Large Cent will be approximately 1150 pixels high.) You can click on Photo Samples to see samples of the Medium and Large photo sizes.

I offer a special for submissions of 10 coins or more; $30.00 per minimum 10 coins submitted, plus $3.00 per additional coin.